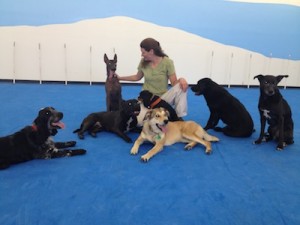 Tuesdays and Thursdays from 10am – 2pm
Pick-up and Drop-off available.

It's more than doggie day care!
Play time is always guided by our experienced dog trainers.
Our trainers will work with your dog on specific goals that you have set, such as polite leash walking, coming when called, impulse control and other fun tricks enriching games. One of our main focuses is to help your dog learn appropriate and polite play behaviors. We take your dog to CRCG for a swim with his playgroup buddies, walks to the park to play in the creek. We give the younger dogs frequent breaks and quiet chew time. Our Playgroup is limited to 8 dogs each day.
Play Group & LEARN is priced at $65 a day and is sold in packages of 10, 20 and 30.
For more information, please contact us.
To register your dog, click here.