Our Team
Ana Melara, CPDT-KA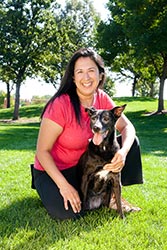 Ana Melara has been working with dogs and their families for almost 2 decades, originally in NYC and for more than 15 years here in Colorado. She is a Certified Professional Dog Trainer and member of the (APDT) Association of Pet Dog Trainers and a member of (IAABC) International Association of Animal Behavior Consultants. She has her Primary and Level 1 TAGteach Certifications and is currently completing her Level 2 Certification. She is a Canine Good Citizen evaluator. She keeps herself current by attending and hosting various workshops, seminars and conferences. Her training techniques are founded on praise-based, dog-friendly and people-friendly methods, and a fundamental belief that, as their guardians, we are responsible for their well-being and training. Whether she is teaching basic manners, agility, puppy socialization, potty training or addressing a dog's aggression issues, Ana stresses to all of her human clients the profound importance that their gentle leadership plays in their dog's training. Ana also donates her time and services to various rescue organizations in the Denver Metro Area.Ana lives in Lakewood with her husband, her daughter and her 4 fantastic dogs. Chaka, her youngest and latest addition, Tatonka, her 7-ish year-old Staffordshire Bull Terrier who has gone from nervous and growly to happily waggly, Meg is her 11.5 year-old black lab everything superstar. Argos is her 15 year-old German Shepherd mix who is one of our greatest assets in helping dogs with aggression issues. Ana can be reached by emailing Ana@TrainingWithGrace.com, or calling 303-238-DOGS(3647).
Gracie
Our deeply loved Gracie has been gone for a year now. Gracie was a whippet/pit-bull mix that I found tied to a fence in NYC in 1999. She was in bad shape, weighing 25 lb. with broken teeth, a broken spirit and missing over 50% of the hair on her body. She came home with me to teach me many lessons. With love, hope, passion, understanding and guidance she quickly became a more beautiful, confident, strong RockStar! In 2008 Gracie competed in Cynosports World Games, USDAA Agility. She has multiple agility titles under her belt and has helped puppies, dogs with aggression issues and countless others. We said our last goodbyes to Gracie on July 3, 2014. We miss her so deeply. We will always remember her loving her belly-rubs, liver cookies and naps under the blankets.
Meg
Meg is a black lab who joined our family at about 12 weeks old. She is the easiest dog we've ever had. She's smart, patient and a great listener. Meg helps our team with our puppy classes as well as in our agility classes. She also competed in the Cynosports World Games, USDAA Agility in 2008 with Gracie. Meg is a great guide to our young puppies and a steady gentle dog that helps us work with anxious or fearful dogs in social settings.
Argos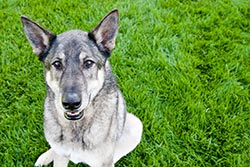 Argos is a German Shepherd mix who joined our family in 2002. He was found as a stray in a neighboring state and was brought to Colorado for some medical attention. He is a huge asset to the Grace Dog Training & Behavior team. Argos helps us with young puppies who have severe aggression issues. He is a brilliant nursemaid for infant kittens. Argos is a superstar at K-9 Nose-work and absolutely lovely with young children. He has taught me patience, forgiveness and dedication. Now in his senior years, Argos has retired form teaching. He is very good at getting all of us in his family to retrieve cookies and other yummy treats for him.
Tatonka
Tatonka came to us in March of 2010. He came to us with multiple lacerations, punctures and scars from having been bound for bailting. His physical scars have mostly healed, but we regularly show him that there are more people in this world who are gentle and safe. He dodged euthanasia twice within a span of 3 months. He is very well loved. He helps us now with dogs who have the very same issues that he used to have, aggression, fear and anxiety. He is a gift.
Travis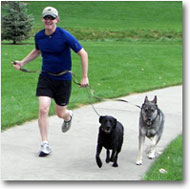 Travis is Ana's husband. They met in NYC at the dog-run in Hell's Kitchen. He has a background in para-medicine, firefighting and spent 6 years serving our country in the Army. In 2008 Travis started the Jog the Dog service for Grace Dog Training & Behavior. Travis takes high-energy, special needs dogs out for runs, jogs and vigorous power walks in order to help families with busy schedules and to to drain some of your dog's energy in a focused mindful way. Jog the Dog is an excellent alternative for dogs who are not fit for a daycare environment and for dogs learning how to mind their manners out in public. A tired dog with all of his emotional needs met is a good dog. Travis can be reached by emailing him at: Travis@TrainingWithGrace.com.
Rebeca
Rebeca is our daughter and she is a treasure! She has helped us with countless animals. She helps us socialize puppies and dogs to children. She helps therapy dogs practice for reading programs. Rebeca has been working with dogs since she was an infant. She has been riding horses from the tender age of 8 months and is currently training weekly. She loves skiing and is is currently exploring cooking classes. Rebeca is currently in the 5th grade and loves reading. Rebeca is planning on getting her own horse when she gets older!
 Courtney
Courtney was raised in Colorado. She spent most of her life with horses, Great Danes, cats, bunnies, ferrets and other creatures. She is an avid animal lover. After graduating from CSU in 2007, she worked in a variety of positions in the animal care industry. She worked in vet clinics, boarding and dog daycare centers. She has also done dog walking and pet sitting. After a few years, she decided to take a break and re-evaluate where she wanted to go with her passion for animals. January 2015 Courtney started in the Rocky Mountain Regional Dog Training Academy with Ana. She is now working at Grace Dog Training & Behavior as a group class instructor and sees private clients for basic manners and self control. She also runs the Play Group & LEARN service at Grace Dog Training & Behavior and is excited for her future experiences training dogs and their people.
Lisa
Lisa Krieger was born at the Air Force Academy in Colorado Springs. As the daughter of an Airman, she lived in four other states and in Germany before settling back in her home state. She has loved and raised dogs all her life. In addition to her three human children, Lisa has added three basset hound mixes to her family. After graduating with a Bachelor's Degree in History from Metropolitan State College, she happily became a stay-at-home mom. However she remained busy as a volunteer for the Denver VA Hospital. It was her experience at the hospital that eventually led her to become a dog trainer. Lisa's grandfather was a WII Combat Veteran. In remembering the loving relationship he had with his dog, Lisa began volunteering for Freedom Service Dogs and the Humane Society. She then decided that she wanted to train dogs full-time and pursue a career as a professional trainer.
Lisa graduated from the Animal Behavior College as a Certified Obedience Instructor in 2015. She teaches group classes at Grace Dog Training & Behavior and helps run their Play Group & LEARN program. She also works part time for a local canine rescue teaching puppy classes and continues to volunteer as a handler for Freedom Service Dogs. Lisa is thrilled to be a part of the Grace Dog Training & Behavior team and looks forward to helping the relationships between dogs and their families grow. She is also looking forward to gaining her certification as a CPDT-KA in the Fall. She believes that gentle, relationship-based training is the best method for teaching and guiding our canine companions and she is grateful to be part of the Grace Dog Training & Behavior family.