Testimonials
Animal Shelter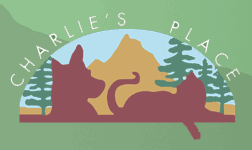 Ana Melara is a skilled dog trainer fluent in the use of praise-based training techniques to modify behaviors.  She has provided invaluable assistance to our shelter by training staff and volunteers to handle and train dogs to improve their quality of life and ultimately become more adoptable.  We incorporate the lessons Ana has taught us on a daily basis.
Sue LeBarron, Shelter Manager
"Charlie's Place"
Clear Creek/Gilpin Co. Animal Shelter
Dumont, CO 80436
303-679-2477, Wed.-Sun.
http://www.charliesplaceshelter.org
---
Inspired by Ana
I was a volunteer at a local sh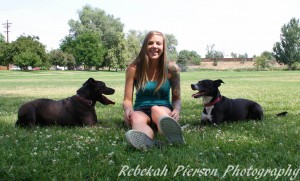 elter for a few years, it was a humbling experience not knowing how to deal with the "challenging" dogs. Ana came and did a one day seminar on how to deal with shelter dogs. I was inspired by her ability to get results without even touching the dog! That's when I decided to enroll in her academy. One of the best choices I've ever made! Ana gave me the tools to work with a number of dogs with a variety of challenges. I have since started my own dog training business and earned my Certified Professional Dog Trainer certification and am planning to earn more certifications. Thank you Ana for your continued support! What a wonderful journey it has been!
Rachel Laurie CPDT-KA
A Good Feeling Dog Training
www.agfdogtraining.com
---
Boxcar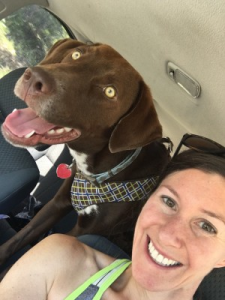 Hi Ana. I just wanted to tell you….I had 14 people over my tiny house yesterday. I made dinner, there were 4 kids ranging in age from 1-10, the cats, etc. it was noisy and overwhelming even for me- but Boxcar was AMAZING! He was great with the kids (even when they were running around with silly string and screaming!) and just laid there on his mat with his chewy with everyone eating around him! He let everyone pet him and he never even freaked out. I was soooo happy and he got so many compliments! So, thank you! 🙂
Lisa Avram and Boxcar
---
Chance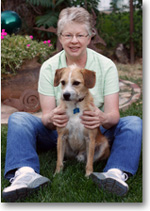 In October 2009 I opened my home and my heart to a little rescue terrier Mix named Chance. He was the third in a succession of 3 dogs who have shared my home with me, and I had been lulled into complacency by my two previous dogs who were the easiest dogs in the world to share my home with. I had no real clue about what was to unfold.
I had seen Chance's picture on the PetFinders website and he was SO cute—in fact, Movie-Star cute—that he grabbed my heart. On the positive side, Chance was smart and funny, he was house broken and knew some basic commands (which he chose to respond to when he wanted to), and he didn't chew on anything but the toys I gave him. On the down side, he was highly reactive with people and other dogs and it was apparent that he had an attitude as big as Mount Rushmore. Though he had no bite history, I was unable to have people come to my house because of his aggressive behavior. He basically wouldn't let anyone in the door! And because he was so reactive, taking him for walks was a real nightmare. He quickly assumed control of me and my house (and my life).
Ana came to our rescue! After Ana's initial assessment of Chance and his behavior, I quickly enrolled him in an in-home training program of behavior modification and we began our journey back to the real world. Ana's rewards-based training, based on positive reinforcement of good behavior, is just what Chance and I needed! Ana has helped me understand the intricacies of body language (both mine and Chance's), and she has shown me how to anticipate situations before they occur and how to defuse some of Chance's reactions before they escalate out of control. My vet prescribed an anti-anxiety medication for Chance that takes the edge off but still allows him to remain alert and able to learn and doesn't leave him drugged. Ana also provided me with the tools to convince Chance that I am in charge and that he can step back and relinquish control to me. I am fully aware now of how much exercise Chance needs to allow him to burn off some of that terrier energy—Chance and I walk between 2–4 miles daily, and Chance currently also runs regularly with Travis in the Jog the Dog side of Grace Dog Training & Behavior. Chance is beginning to make some doggy friends and is becoming less reactive with people. He will always be a work in progress, but our life together is much more manageable these days. A big THANK YOU goes to Grace Dog Training & Behavior for being a real lifeline for Chance and me.
Laurie Bogue
Denver, Colorado
---
Merlin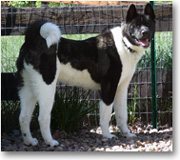 We had this new puppy and we loved him with all our hearts but he was out of control. We realized we were in over our heads. We tried "Puppy Kindergarten" at the local pet store—he learned to sit, but that was about all. He used my daughter as a chew toy and would bite at her feet and jump on her when she walked by. Walking him was a nightmare because he pulled so hard I was afraid he was going to break the leash.
When I took Merlin to the vet he became very agitated and aggressive during the exam. Even with a muzzle he would not calm down and the vet could not continue the exam. This was (and is) our family vet for the last 30-years so we know him quite well. He was very concerned about the behavior and referred us to Ana for help. He told us group training would not work – we needed one-on-one training.
Merlin has calmed down—the change in him was almost immediate. Ana taught us how to set proper boundaries and be consistent. He's a big, powerful dog and he needed to know what he was allowed to do. He also had to learn his place within the family. We are more consistent with him now and everyone is much happier.
We aren't through with our training sessions and still have a lot of work to do but the results thus far are amazing. I would recommend Ana, and have, to anyone who needs help with their dog. Ana is teaching us how to handle Merlin so he can count on us to calm him down and get him out of situations he can't handle. Understanding and connecting with your dog is an essential part of this success.
The Gallegos Family
Highlands Ranch, CO
---
Max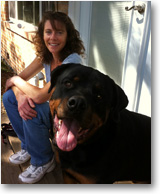 I grew up with a huge fear of dogs, all dogs, no matter what size or breed. It was really more of a phobia. At the age of 10, I couldn't even walk on the same side of the street if there was a dog, even if it was leashed. My heart would race, adrenalin pumping, and then I would burst into tears. It really isn't fun living with a crippling fear.
When I was in high school we got a Shetland sheepdog puppy. My fear never applied to cute little puppies! As Dusty grew up m my fear began to slowly disappear. I was never bitten by a dog, or attacked. I never had anything scary happen with a dog, it was just there for as long as I can remember.
By the time I got married, I wanted my own dog. We had bought a house in Conifer and we both felt that with an acre of property, we had a great set up for a dog. So the little girl with a phobia of dogs grew up, and her first dogs were a German Shepherd and a Doberman. Yes, I went from one extreme to the other! I can look back now and tell you beyond a shadow of a doubt that I didn't have a clue what I was doing and those dogs were in charge in no time. As time went on we brought our first Rottweiler home, Taz. I lucked out. I still had no clue what I was doing or how to raise and train dogs and Taz was the most mellow, obedient dog.
There were a few other dogs along the way, but I'll jump to 2007. Max is our 4th Rottie. I wanted to bond with him, train him. I found Ana on the internet and picked Grace Dog Training & Behavior because Ana offered classes close enough to Conifer. I was in awe of Ana from day one. I was learning! Who knew that dog behavior is so different from what we humans think. I was learning about it and what it all meant. Positive training and hands on help from Ana was amazing. Max and I took multiple classes with Ana over the next three years.
In March '09 we brought home another Rottie, Brutus. Max was alone and needed a new buddy to hang out with. Unfortunately, in May '09, we lost Brutus in an accident that I still feel responsible for. I was using a coupler leash which I will tell you now—Don't use them, ever. I have suffered from PTSD due to witnessing the accident and watching my baby Brutus pass away.
The accident caused my phobia to come screaming back ten fold. Now I was paralyzed by it and couldn't even put a leash on Max. I called Ana for help. She immediately came to my house and started working with me. She was sensitive to my issues, but gently pushed me forward. We continued working through the summer and made some progress.
It's been fifteen months since the accident and Max and I just finished taking total recall with two other dogs. Each week I felt more at ease and I knew Ana was there if I felt overwhelmed.
We decided we had to get another buddy for Max in July '09 and brought Bruno home. He has taken numerous classes with Ana and we are now in her "Let's Walk" class. I will also be jogging with Travis so that I have help with Max and Bruno.
I'm still not 100%, but I've come a long way from where I was. Ana played a huge part in helping me. Max is an amazing dog because of her training and guidance
Thank you Ana, for loving what you do and caring about your clients.
Jennifer Tomajko
Conifer, Colorado
---
Mastiff Puppy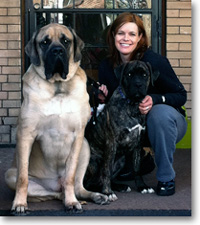 Ana came into my life because of my second Mastiff, Booker. I adopted him from a rescue with no clue to his background. But seriously why would a cute 9 month-old dog have issues, right?
I was out of my league. His first owners tied him up in a yard, starving and beating him for fighting. I'm not sure how he ended up in a shelter in Aurora but by some grace he was not put down and ended up at Blue Lion Rescue, where I found him. He snapped at me once and we've never had a problem since, but he was fearful around strangers. This concerned me. While a small badly behaving dog is labeled "cute" or "funny", the same behaviour in a big dog is labeled aggressive.
So Ana came to us. After an eval we started classes, which were working but not as well as I had hoped. At one point I had a meltdown, and Ana, in her tough-but-loving approach told me I had to get my head in the game if I wanted to see success in Booker.
So I put my head in the game and gave him my best effort. It has reaped rewards beyond my imagination. While my first Mastiff, Chloe was as sweet as ever around people, she was a naughty dog whose manners were far from perfect. I realized this as Booker became the better behaved dog walking on a leash. He never steals food off the counter. While we're still working on his fear of strangers, he now takes treats from Ana's hand when she comes over!
Booker tuned out to be the biggest blessing in disguise. The day after Christmas 2008, Chloe became very ill. She ended up in the doggie ICU for 3 days. After 6 units of blood, 20 litres of fluid, IV and oral immunosuppressants, she still showed no improvement. Accepting that Chloe's death was near and deciding to put her down was the hardest decision of my life. Coming home to Booker saved me. Funny thing is, he knew. He looked for her, but he knew she wasn't coming back. Grieving with him was in itself the best therapy. Ana helped with that too.
He is still becoming an amazing dog. He is a well-mannered family member and an amazing companion. Ana has guided us in so many ways and provides solid, real life advice and solutions. She is the reason I still have Booker - and for the incredible bond we have.
Ana has a great sense with animals. She is patient, offers sound advice, and more often than not is correcting the human involved. She helps you understand what your dog sees and understands and has endless resources to supplement you. She makes sure you understand that your relationship with your dog is YOUR responsibility and success lies largely in your hands.
I'm looking forward to building my relationship with my next kid, Lucy, with Ana to guide us.
Dionne Cyca
Denver, CO
---
From a Fellow Dog Trainer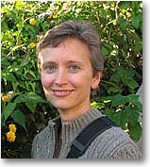 I have known Ana for several years, and we have taught many classes, workshops and seminars together. If I were looking for a class to attend or for personal help with one of my dogs, Ana is the first person I would call.
She takes the time to understand the needs of both the dogs and their people which is necessary for a successful outcome. Ana is great at reading dogs, and can pick up on the subtle signs that most people miss. She is a great listener and an effective communicator with both dogs and people. A trainer who is great with dogs but can't coach the people how to work with their own dogs is not going to provide lasting long-term results. She can help people teach their dogs the basic skills such as come, stay and leash walking but she also understands that helping people learn to use these cues effectively in everyday life is even more important.
Whether someone wants to compete in agility, learn to address their dog's aggression issues, or just have a great family companion, Ana can help to look at the big picture and address all issues that are contributing to the end goal. She understands that there are often factors affecting the issue that might seem unrelated but are really quite relevant. She addresses the entire picture which results in the most effective program for success.
Sue Brown, MNM, CDBC, CPDT
Certified Dog Behavior Consultant
Certified Pet Dog Trainer
Love My Dog Training
Denver, CO
---
Aggressive Puppy
When my new puppy began acting aggressively towards other dogs, I was overwhelmed with advice, good and bad, helpful and not so helpful.  It was very confusing and sometimes frightening. Ana helped sort through all the information and made sense out of the chaos. She developed a program appropriate for this particular dog and his specific issues.She has been available every step of the way to progress him to each new level.  Best of all is her consistent encouragement and support of both the human and the dog throughout the process!
Lori Hansen
Denver, CO
---
Greyhound Foster Dog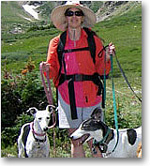 In December, 2003, a greyhound that I was fostering for Colorado Greyhound Adoption exhibited a behavioral problem that I was not equipped to handle. When seeing strange dogs in the park, three year old Chester would lunge after them. When I tugged on the leash to correct him, he would turn around and bite me on the leg. Knowing that Chester was not adoptable because of this behavior, I was put in touch with trainer Ana Melara who had generously consulted with CGA in the past.
Ana visited our home for an on-site evaluation of Chester. She observed him for his level of reactivity, ability to accept leadership and fitness for rehabilitation. She provided us with recommendations for reasserting our authority and started us on a program to deal with his leash aggression and re-directed aggression. Ana also suggested that I purchase and read Feisty Fido, to complement our lessons. We practiced daily in the neighborhood and had weekly sessions with Ana.
We began with the "Watch" command at home and, once mastered, practiced in our neighborhood, well away from other dogs. Gradually we worked on this command closer and closer to other dogs. Months later, as Ana had promised (I was incredulous at the time), Chester sat with his attention focused on me at the training center while Ana's dogs approached him. After months of Ana's positive training, Chester was a changed dog! We incorporated "Sit," "Stay," "Wait," "Down," "Up" and "Speak" into our lessons. It got to the point where Chester would see another dog, look at me and sit for a treat! We eventually met all sorts of dogs and Chester mingled peaceably with scores of greyhounds at CGA events. In September, Chester finally found a home of his own!
Without Ana's help, Chester's miraculous transformation would not have been possible. She trained me to communicate, using positive reinforcement, what I wanted Chester to do. We achieved our training goals without the use of any punishing choke collars or yelling. In fact, he was fitted with a special harness that left his neck and muzzle free, so that no pressure was exerted when seeing another dog. I found it revolutionary that instead of hurtful things (choking collars, yelling) when seeing another dog, he experienced only good things (treats, praise).
At our sessions, Ana provided a running (and often funny) commentary on what Chester was thinking. This helped me to read him better. It was truly amazing to observe this rambunctious, dog-aggressive greyhound become a well mannered boy who amused all who met him with his repertoire of tricks! And it was no less miraculous to see him happily and confidently meeting strange dogs in the park…
Ana has become Chester's and my hero! She is a wonderful trainer - of people and dogs alike! Ana's training methods have become my gauge of what excellent, effective training should be about.
Sincerely,
Judy Greenfield, Colorado Greyhound Adoption
Denver, CO
---
No-Fluff Approach
Ana has a way with dogs, her kindness and human methods are creative and effective. I love the fact I could throw that terrible choker away and have a more humane way of teaching my dog right from wrong. Her methods are not the sort of things you would find in any book widely available to the public. Ana is precise and in control as are her three dogs Grace, Argos, and Meg. They are an inspiration to me and my dog. A true testimonial to what can be achieved by learning how to have great human-dog communication skills. Our dogs are trying to tell us something, we just need to learn what they are saying. Ana is straight to the point and honest no bushes to beat around, just the facts. Her no fluff approach has been a huge asset to our family, and the mental health of our dog. I only wish we would of started sooner. I trust Ana implicitly with the development of our dog and our family relationship with our dog. I really can't describe the huge effect she has had on our home. Ana has helped us turn our dog into an asset for our family, rather than the liability we feared she was becoming. Thank you Ana for saving our family, we love you.
Ryan Kramer and Phara Williams-Kramer
Denver, CO
---
Rosy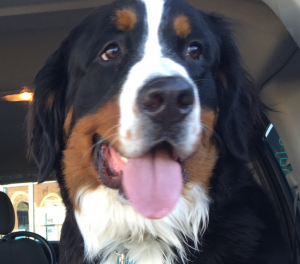 I would like to express my feelings about your training center. You by far have the best training center we have ever been to and we have had several experiences with other training schools. You and your staff always made us feel so comfortable in class, and always made it fun for both of us and Rosy. We have never had a trainer so genuinely concerned about the welfare of our dog, from her hips to her food. You offer information in such a gentle way without judgement on our decisions. You just let us know that there are other choices out there and we thank you for that because Rosy has only benefited from them. Thank you for the people you have sent us to, Dr. Richardson for physical therapy and Dr. Harper for chiropractic they have been extremely helpful. We are so grateful to you and your staff (Shauna and Jared) for your expertise, patience, guidance and treating Rosy like one of your own dogs. We will totally tell everyone about Grace Dog Training & Behavior whether they have a puppy or a dog that needs some extra training. Thank goodness I met Shauna at yoga! We will stay in touch and if we need more help we know where to go:) Thanks Ana for your comforting smile and always finding the bright side of our Rosy's bad puppy antics.
Mike, Adele, Rosy and Bear
Lakewood, Colorado
---
Bully Breeds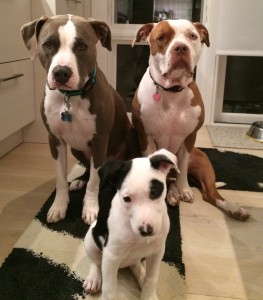 Grace Dog Training & Behavior is without a doubt, The Best!
Excellent with bully breeds!
Kristina Cleary, Dutch, Maggie & Roxy